Recipes -
Share your all-time favorites!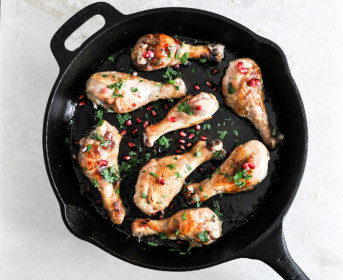 BAH BAH pomegranate chicken
By

- admin

Total Time: 35 minutes

Prep Time: 15 minutes

Cook Time: 20 minutes
Ingredients:
2 pounds chicken drumsticks
2 tablespoons olive oil
1/2 teaspoon salt
1/2 teaspoon pepper
1/2 cup BAH BAH hot sauce
1/4 cup rice wine vinegar
3 tablespoons brown sugar
1/2 tablespoon soy sauce
1 lime, juiced
3 garlic cloves, minced or pressed
(Few) pomegranate arils for garnish
(Few) freshly chopped parsley for garnish
Directions:
Preheat oven to 375 degrees F. IN a large measuring cup or bowl, mix together BAH BAH hot sauce, soy sauce, vinegar, lime juice, brown sugar and garlic.
Heat a large oven-safe skillet over medium-high heat and add olive oil. Season chicken with salt and pepper, then place in the skillet and sear on each side until deeply golden and brown, about 2 minutes per side. Remove chicken and place on a plate, turning heat in the skillet down to medium-low. Bake for 20-25 minutes. Remove chicken and serve with chopped parsley and pomegranate arils.